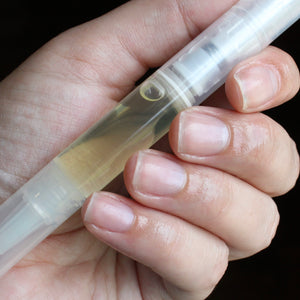 Confetti Cake - freshly baked, rich vanilla cake made with pure cane sugar decorated with creamy white frosting.
CMB (cucumber melon b*tch) - honeydew and sweet watermelon combined with crisp, cool cucumber
White Orchid - tropical note of coconut milk is carefully blended with exotic notes of bamboo water, aloe leaf, white orchid, and wild sea grass while a fruit accord of fresh melon and green pear adds excitement.

Ginger Limeade:

Refreshing mix of ginger and lime




Hot Chocolate:

decadent chocolate




Sweet Treat:

Reminiscent of fruity cereal




Banana Business

: 

a blend of fresh bananas, kiwi, strawberries, pineapple, bubble gum and undertones of vanilla.




Welcome to Paradise

: 

slightly tart fragrance oil, but not sweet, just fruity. Reminiscent of Skittles Candy.




Beautiful Day

: sun-kissed sliced apples, diced dewy ripe pear blended, bright wildflowers, and blonde woods.




Island Getaway

: sweet, light and fresh, coconut and citrus are complemented with a hint of cardamom.




Soothe Sensations

: classic mixture of almond and warm honey notes.



Ingredients: Jojoba Oil, Avocado Oil, Grapeseed Oil, Rosehip Seed Oil, Vitamin E, Fragrance