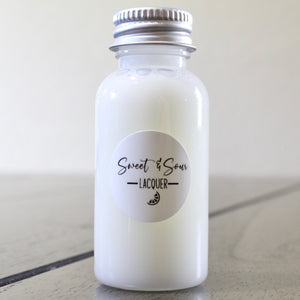 This nourishing and deliciously smelling acetone additive is perfect to combat the harshness of pure acetone. Shake the additive bottle to incorporate the oils with the water (it's magic!), and then pour the entire 30ml (1fl oz) into about 8oz of acetone. 
You can start with a lower additive to acetone ratio if you'd like, and then add a little more at a time until you reach your desired moisturizing effect.
Aqua - notes of fresh water by the sea - very clean scent



Apple Slices - Fresh picked apples, comparable to

 Fresh Picked Apple® by Bath & Body Works.

Chocolate Fear-Mint: chocolate mint scent
Beautiful Day - 

sun-kisse

d sliced apples, diced dewy ripe pear blended, bright wildflowers, and blonde woods.
Fresh Watermelon - sugary slices of fresh watermelon. Comparable to Fresh Picked Watermelon by Bath & Body Works

Sunflower Fields Forever - Energizing blend of pink citrus, crisp pear, fresh honeysuckle, sunflowers, sheer vetiver, and dewy orchid.

Coconut & blue agave: Notes of sweet blue agave, pear nectar and coconut blossom blend smoothly with apricot and tonic bean.

Pink champagne: Fresh apricot is intertwi

ned with rich brandy, winter berries and bubbly.




Aloe water & sea kelp: A refreshing fragrance reminiscent of the beach, containing key notes of aloe, sea kelp, and fresh ozone, married with a floral fruity accord of orange flower, geranium, tuberose, red berries, and pineapple.




Welcome to Paradise: is fruity, slightly tart scent. Reminiscent of Skittles candy!




Tutti Frutti: a fruity cocktail with notes of grapefruit, pineapple, honeydew melon, and other citrusy scents! 
Ingredients: Distilled water, polysorbate 20, glycerin, jojoba oil, grapeseed oil, preservatives, fragrance